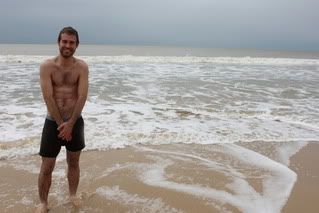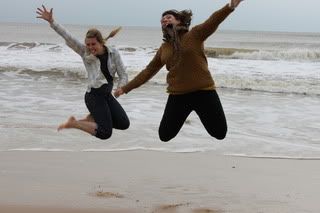 We went to Moguer for the day the Friday of the 12th. The weather dampened the excursion though, it was cold and rainy. Unfortunately for me, I woke up at 7:50am, ten minutes before the bus left at 8am. Therefore, I definitely threw clothes on my sleepy body forgeting warm clothes or a jacket. Nadia and I ran all the way to the Center Seville Hotel. The trip was focused around the voyages of Christopher Columbus. First, we visited Christopher Columbus´ well. The well is dry and filled with sand now, but this is where Columbus drew his water in order to fill his stash on his journey in 1492.
We loaded up the buses once again and headed to La Rábida. It is the monastery where Christopher Columbus lived for two years before his voyage. After King Ferdinand and Queen Isabella rejected his request for funding an expedition to the Indies, Columbus sought the help of the Franciscan monks at La Rábida. Fortunately, the prior of La Rábida was also Isabella´s confessor. Through his connections, Columbus gained an audience with the Queen who granted funding for the excursion. As we know, Columbus did not reach the Indies on this voyage; he discovered America instead.... whats up.
At La Rábida, we saw where Columbus planned and discussed his expedition with the monks. We were able to touch an original table where Columbus used to work, a sword that was used to conquer the Americas, and boxes of soil from all over the world. It was cool to see all this actually. The monastery patio is surrounded by these 3Dish paintings. They were crazy looking and completely different from anything I've seen. After the monastery, we went closer to the bay to see the life-size replicas of the three ships in Columbus´ fleet. Too bad it was raining so bad they wouldn't let us on the docks that led up to the ships where you are usually able to crawl all over them. Darney.
Then we loaded the bus to return to Seville, but the bus took a detour to one of the beaches close to Seville called Matalascañas. Though the weather was not ideal for a beach day (not anywhere close), most of us rolled up our jeans and took off our shoes to dip our feet in the Pacific Ocean. A few brave guys decided simply touching their feet in the water would not suffice. Four stripped practically naked and swam in the cold waters. I´m sure it was an experience they will neither forget nor repeat. Even with dreary weather, I really enjoyed the beach. I personally loved walking all the way back to the bus with numb bare feet walking off the sand between my toes. It was a good experience, but the excursion would have been 100% better with sunny weather!